Embody: breath + body + intention = transformation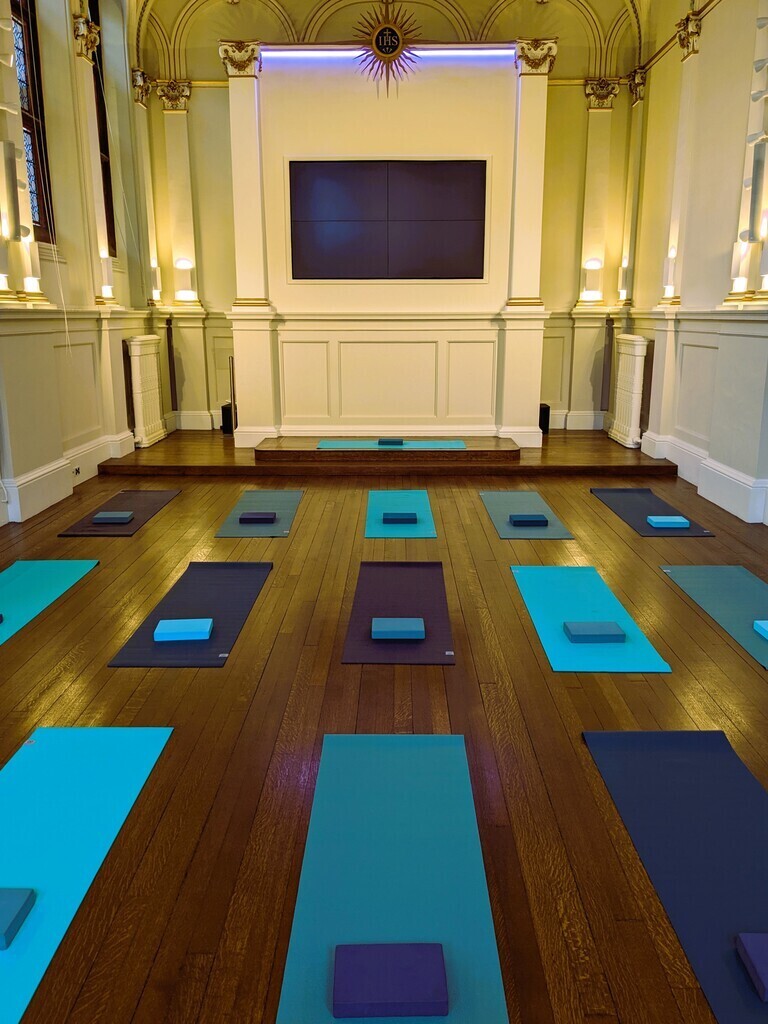 Monday, 12 June 2023

6:30pm - 8:00pm

London Jesuit Centre
About
This is the application page for the 5-week embody course starting Monday 12 June 2023.

THIS COURSE IS NOW FULLY BOOKED. The next embody course will take place in September 2023, and there are residential retreats at St Beuno's in Autumn 2023 and Spring 2024. Sign up for the newsletter below.

Embody is our regular weekly in-person 90-minute class of embodied physical practice. Each class uses breath and bodywork techniques combined with guided intentions, visualisations, prayers and music to invite you into a place of inner stillness and safety where a transformative encounter with the divine becomes more possible.

Course outline

What can I expect at an embody class?

An Embody class is practiced barefoot on an exercise mat, and it incorporates a full range of seated, standing, balancing and lying postures, along with breathwork.

A 90-minute class is a sequence of breaths and postures which increase our natural levels of dopamine, serotonin, endorphins and the other 'feel-good' hormones that help us feel happier, less anxious and more motivated. The breaths and postures are interspersed with short rest periods where you bask in the effects of the effort you've made, leading to a longer period of prayerful relaxation at the end of the class.

An exercise mat and block is provided. You should wear comfortable clothing you can move around in. Please note that we don't have changing rooms, showers or lockers at the Centre, though we have plenty of toilets which are just about big enough to change your clothes in if you need to.

Classes start promptly at 6.30pm so please make sure you can arrive in good time to be ready on your mat for the class to start at 6.30pm.

How fit/flexible do I need to be to take part?

This is an experiential breath and body work course, which includes vigorous dynamic postures and requires a degree of flexibility and mobility to take part.

As a minimum, you should be able:
- to sit comfortably on the floor,
- to be able to move easily from seated to standing without additional support,
- and to be able to raise your arms out to the sides and above your head, and to bend over towards your toes (even if you can't manage to touch your toes).

You don't need to be super-fit or flexible to take part, and you are always in control of how much effort you choose to make in the breaths and postures – but the more effort you make then the more benefit you will feel!

If you have any existing medical conditions or injuries, then you should consult a medical practitioner before you apply for this course. There is a short medical questionnaire included in the application form and a further medical declaration which must be completed before you can participate in a class. This course is not suitable for anyone who is pregnant, or under 18 years of age.

THIS COURSE IS NOW FULLY BOOKED. The next embody course will take place in September 2023, and there are residential retreats at St Beuno's in Autumn 2023 and Spring 2024. Sign up for the newsletter below.

Feedback from previous embody participants

"This course made me be fully aware of myself and my body. It helped me to unwind after a work day and push me to go beyond my limits."

"I particularly enjoyed the way my body felt afterwards: more centred, more energised. I noticed that I was more able to be still during my own prayer time."

"I benefited from the ability to be in my body, with anxious everyday thoughts set aside for 90 minutes, setting me up for the week ahead and giving me a refreshing physical workout in the process!"

"I feel happy and relaxed after the class."

"I liked the environment, the mixture of dynamic and static postures, the music and the final prayer. Overall it was tiring but exciting!"

Cost

We suggest a donation of £50 for the 5-week course but if you can't afford this you can pay less. (We don't ask for any payment until after your registration form has been reviewed by the tutor.)

Tutor

The Revd Dr John Russell is Acting Lead for Spirituality at the London Jesuit Centre. John is an Anglican priest and Fellow of the Higher Education Authority. Previously, John worked as a Human Rights Lawyer and university lecturer. At age 40, he went into AA for 6 months, lived with monks in Yorkshire for 3 years and became a priest. After a curacy in Chelsea, he served as Associate Rector at St James's Piccadilly. John is an accredited teacher of trauma-aware Kundalini Global yoga, with specialist qualifications in breath-work and addiction recovery. His favourite modes of transport are bicycle and kayak. He has 34 tattoos and thinks he still may have room for a few more.

embody newsletter

As you're interested in this event, you may want to subscribe to our occasional embody newsletter here.
Location
London Jesuit Centre 114 Mount Street, London